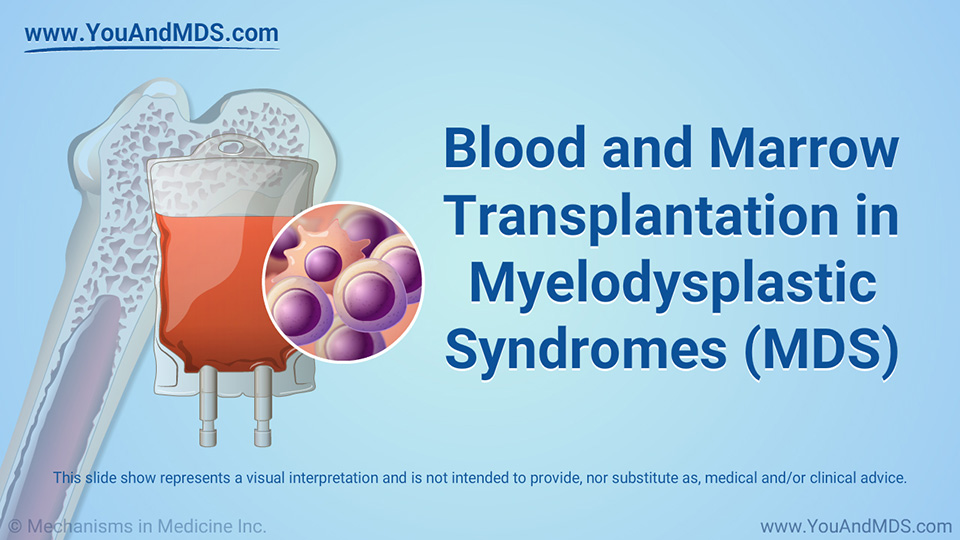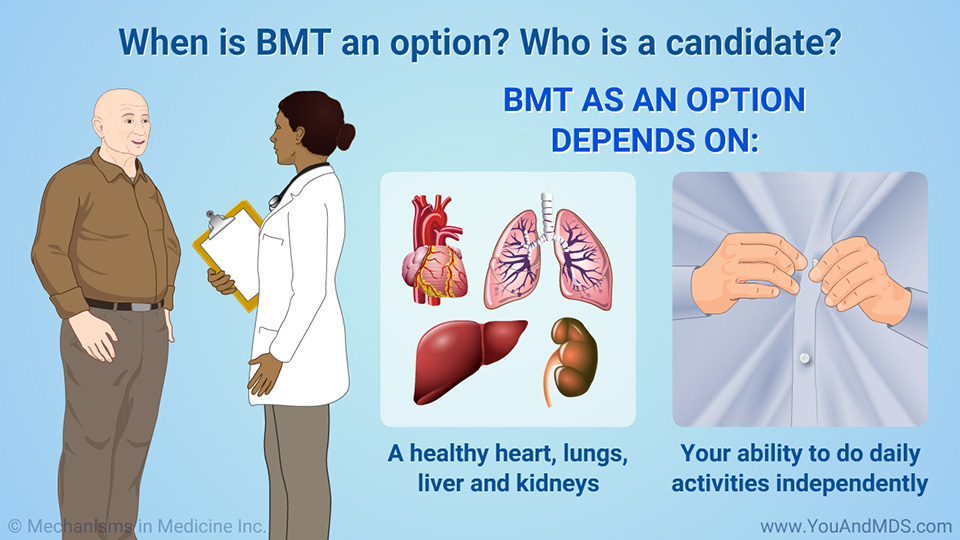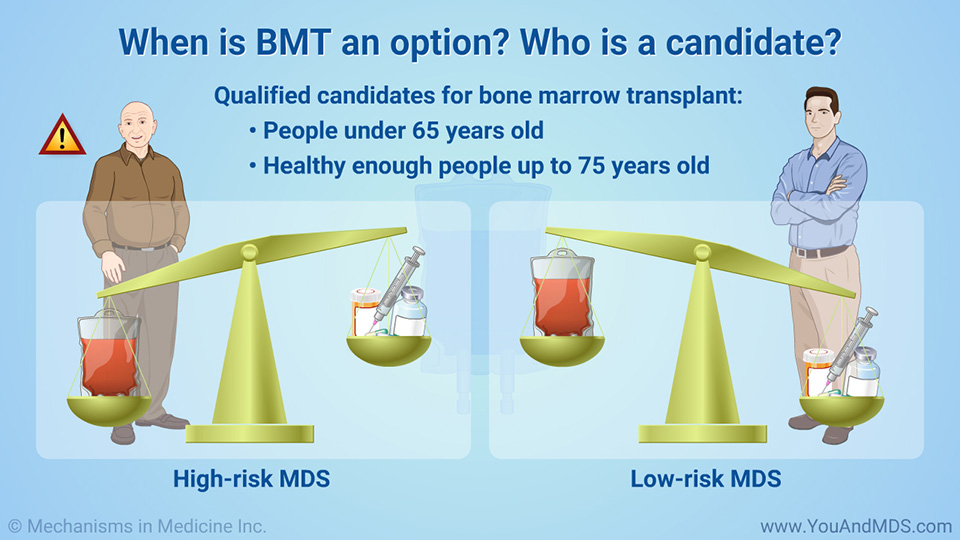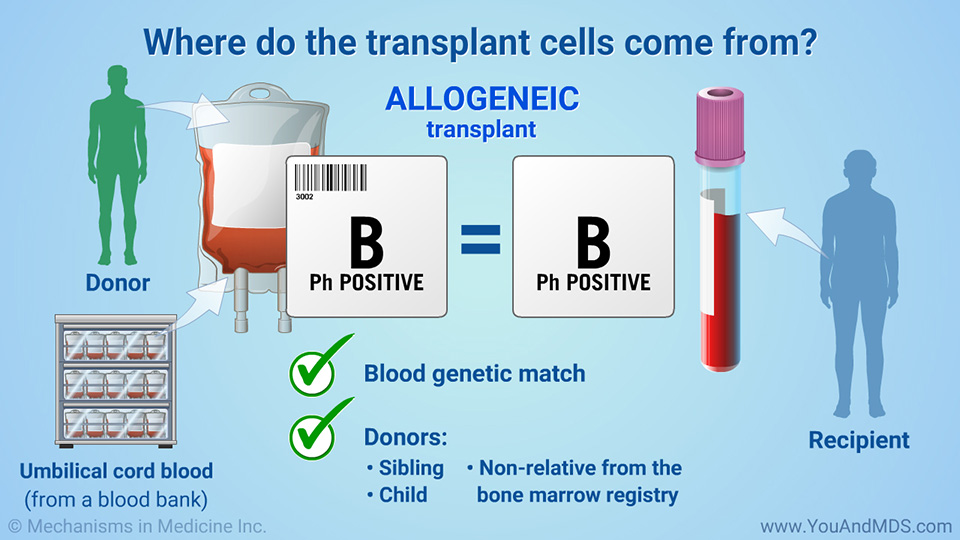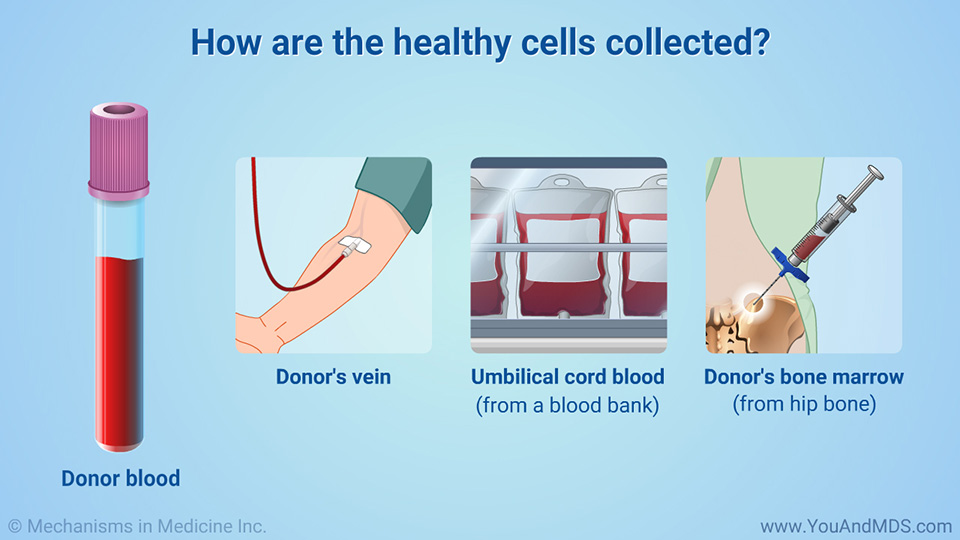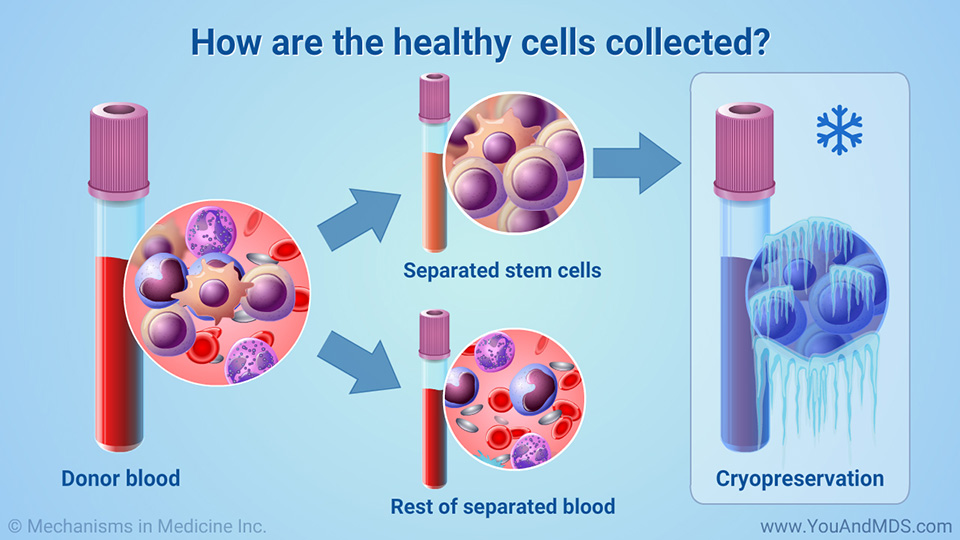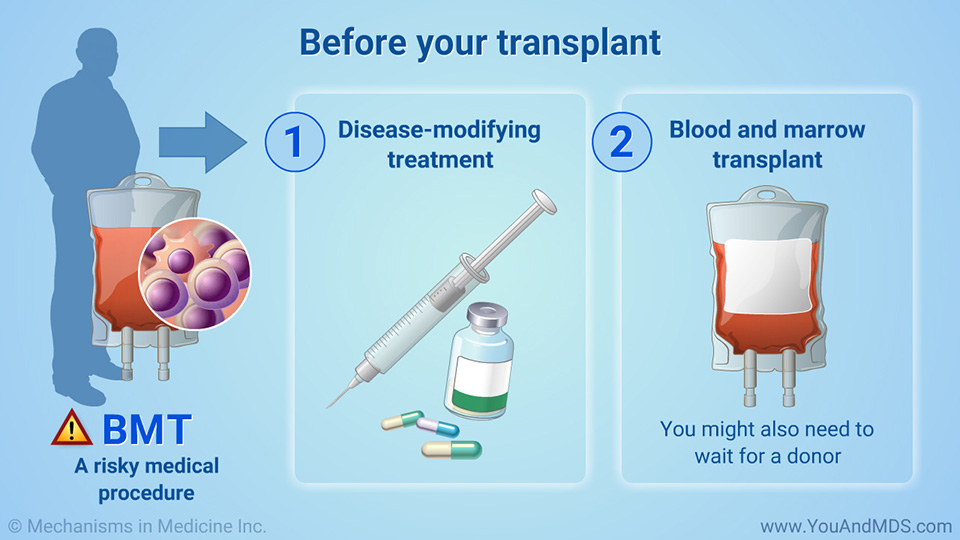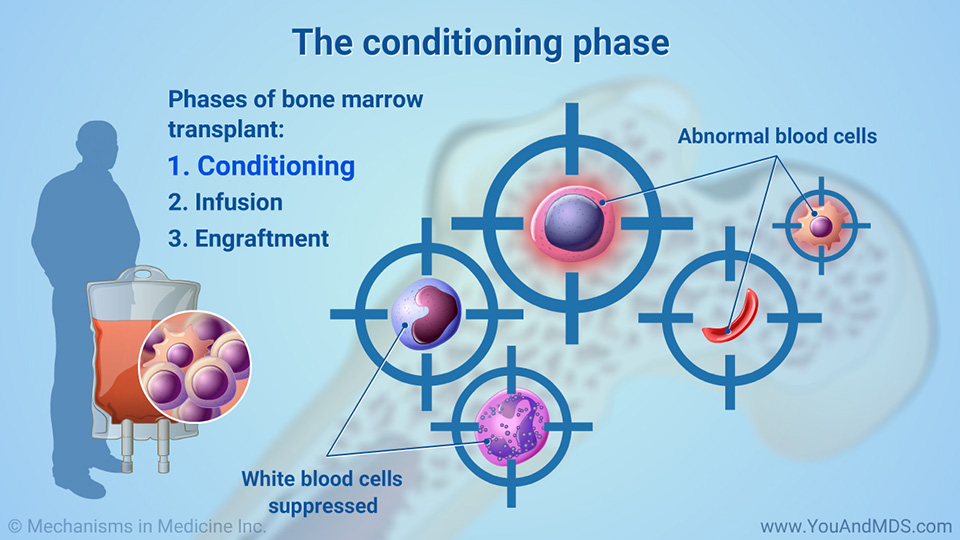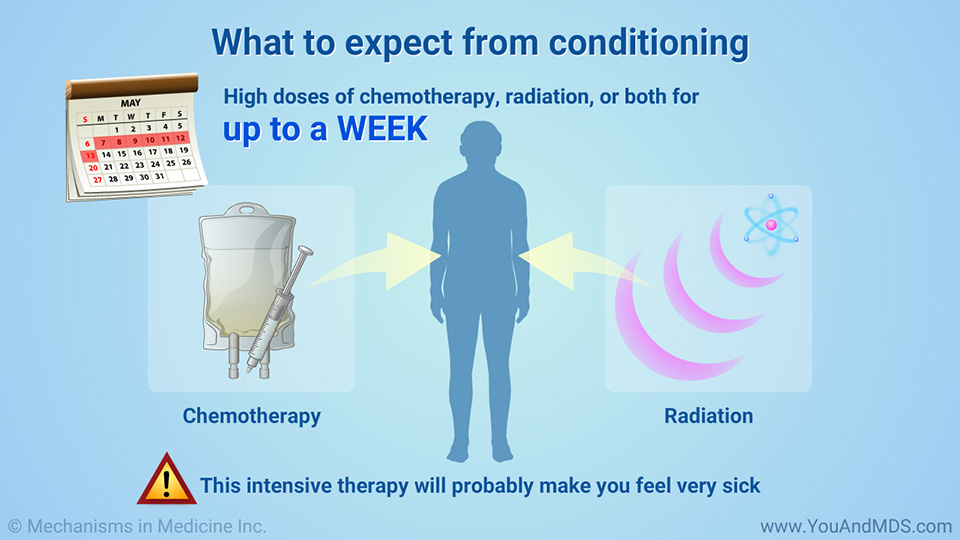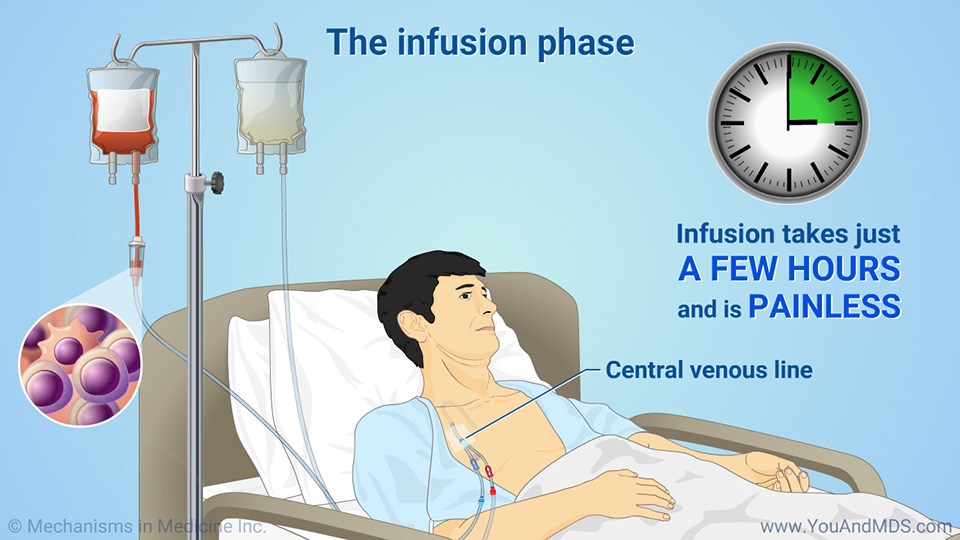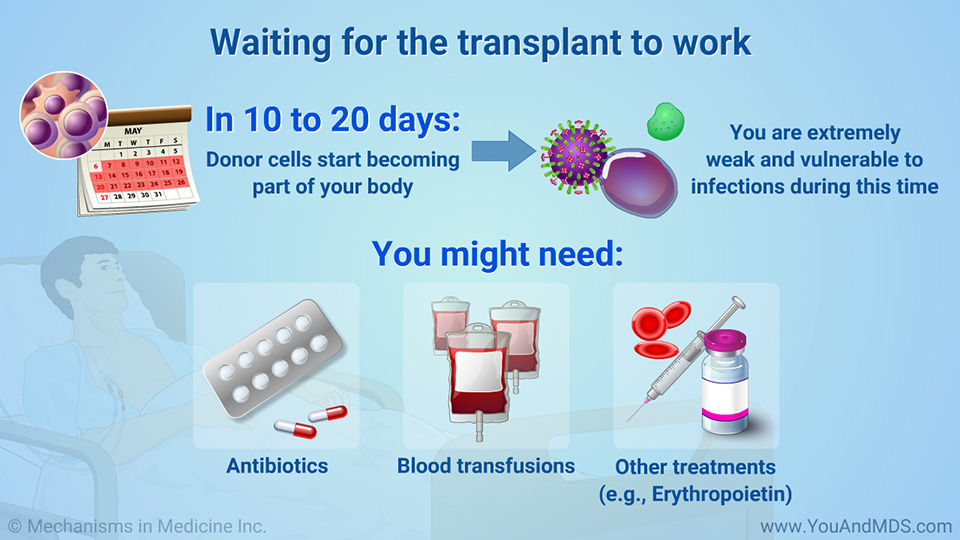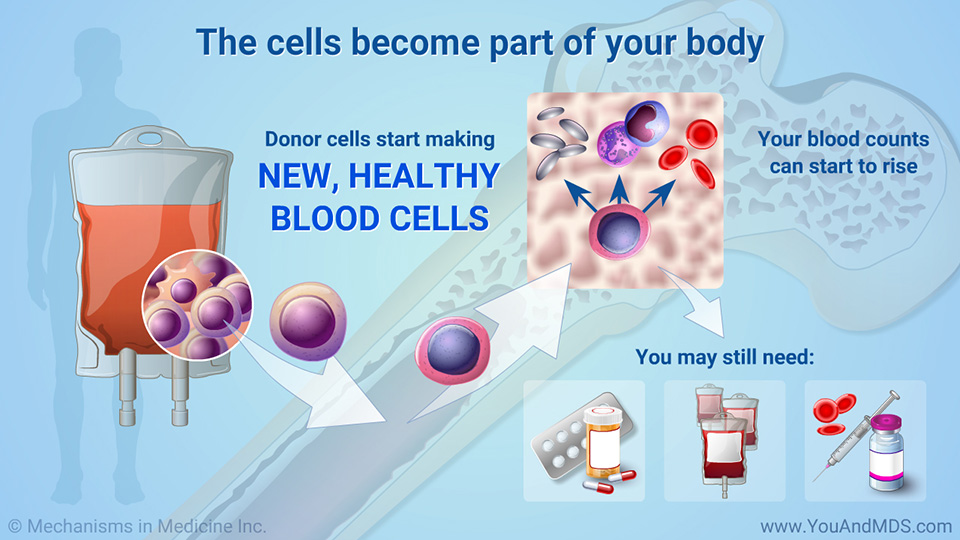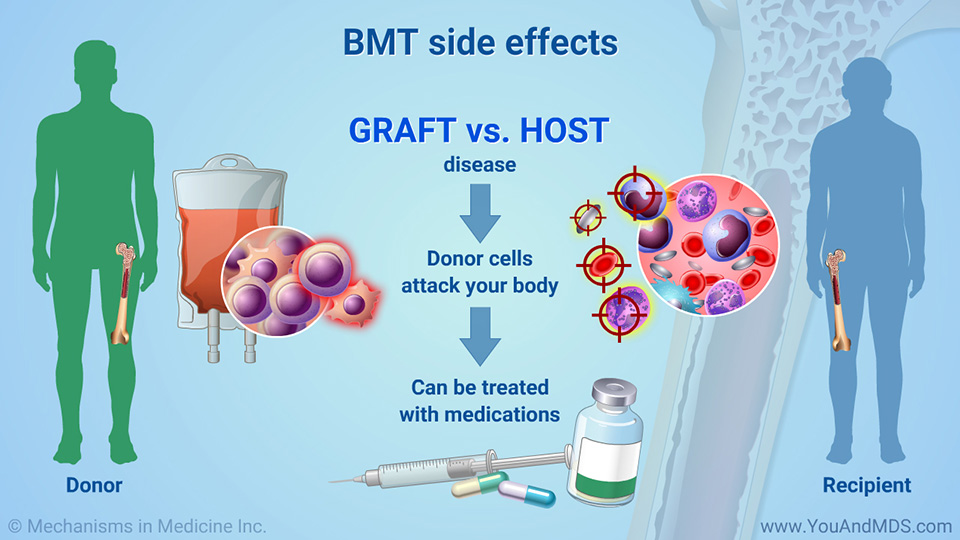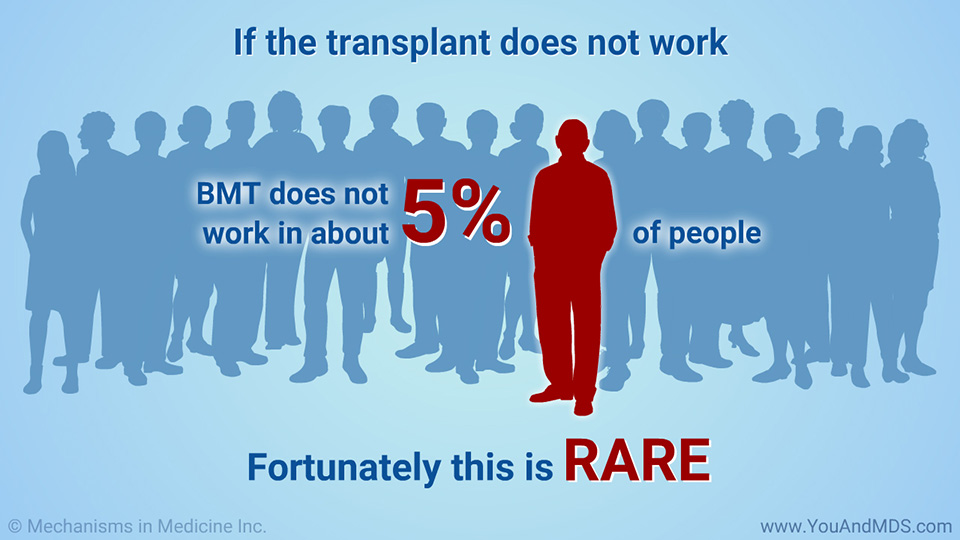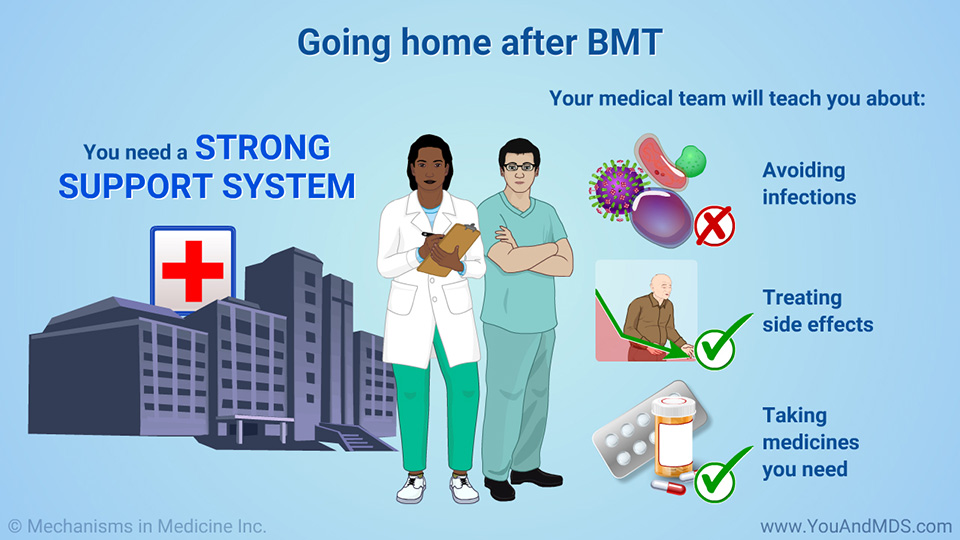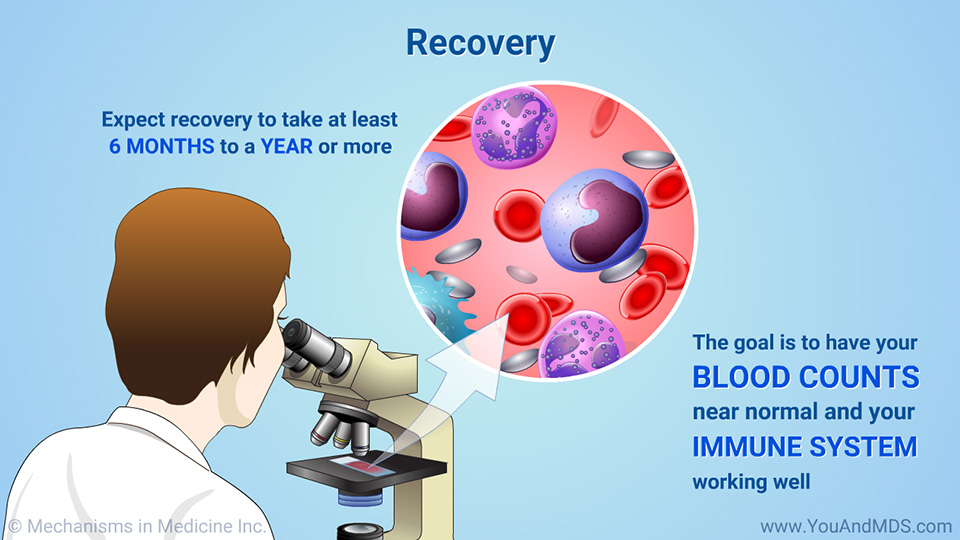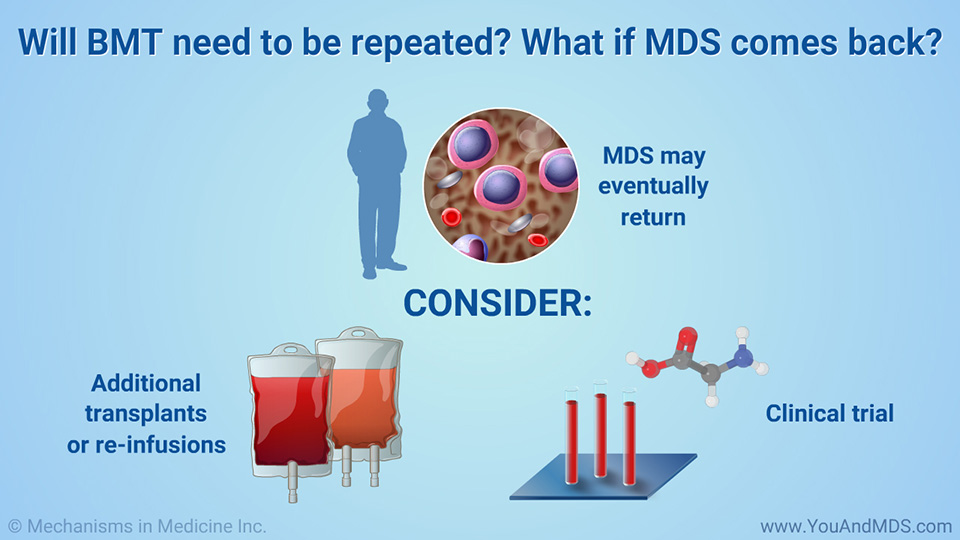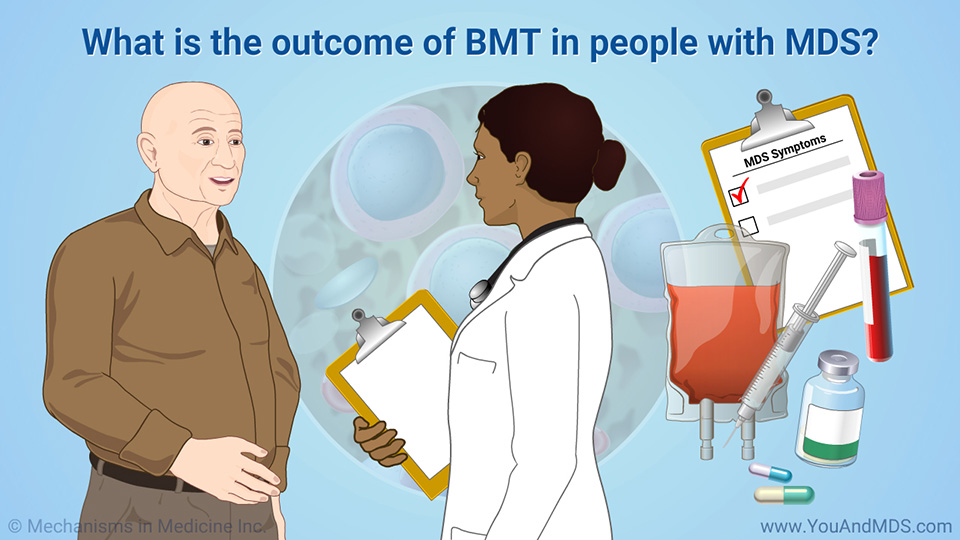 *Please note: This slide show represents a visual interpretation and is not intended to provide, nor substitute as, medical and/or clinical advice.
What is a blood and marrow transplant (BMT)?
A blood and marrow transplant, or BMT, is a treatment that replaces your diseased stem cells with healthy ones. Doctors also call this a stem cell transplant or hematopoietic stem cell transplant.
BMT is the only treatment that may cure MDS. It is too risky for some patients, but you might qualify.
When is BMT an option? Who is a candidate?
Your doctor will tell you if BMT is an option. Your heart, lungs, liver, and kidneys should be healthy, and you should be able to do daily activities independently.
When is BMT an option? Who is a candidate?
BMT is often considered for people with high-risk disease, with other treatments favored for low-risk disease.
Most people who qualify are under 65, but people up to 75 years old can have BMT if they are healthy enough. People without certain gene mutations tend to do better after BMT.
Where do the transplant cells come from?
In MDS, the transplant cells come from a healthy donor or from umbilical cord blood in a blood bank.
The donor's blood needs to be a good genetic match with yours. Doctors call this an "allogeneic" transplant, meaning a gene match. A donor can be a sibling, a child, or someone from the bone marrow registry who is not related to you.
Doctors use your own cells in some transplants, called "autogeneic" transplants, but this is not done in MDS.
How are the healthy cells collected?
Most often, doctors take blood from a vein. Cord blood comes from a blood bank. Or they may take cells from a donor's hip.
How are the healthy cells collected?
The blood or marrow is processed to separate the stem cells, and these are frozen until you are ready for the transplant.
Before your transplant
A blood and marrow transplant is a risky medical procedure. So, your medical team will do tests and provide counseling to make sure you understand BMT and are healthy enough to have it.
If you qualify, you might need to take disease-modifying drugs before the transplant process starts, because your MDS must be well controlled beforehand.
You might also need to wait for a donor if one is not available right away.
The conditioning phase
Conditioning is the first step in the transplant process. It prepares your bone marrow to receive healthy new cells. It can also kill abnormal cells and suppress your immune system so it will not fight the donor cells.
What to expect from conditioning
In conditioning, you receive high doses of chemotherapy, radiation, or both for up to a week. This intensive therapy will probably make you feel very sick.
You will have treatment for the side effects, but you might need to stay in the hospital to get the care you need. Or you might go to the clinic each day.
What to expect during the infusion
In the infusion phase, you get your new cells. Some people consider this their "new birthday."
The cells are given through a central venous line, or central line, which is a small tube that goes into your chest. You might have already had chemotherapy through your central line.
Getting the cells takes just a few hours. The infusion does not hurt.
Waiting for the transplant to work
It takes 10 to 20 days for the donor cells to start becoming part of your body. You are extremely weak and vulnerable to infections during this time because your blood counts are very low. You might need antibiotics, transfusions, and other treatments during this time.
The cells become part of your body
The engraftment phase is what doctors call the cells becoming part of your body. In this phase of BMT, the donor cells start making new, healthy blood cells. Your blood counts can start to rise, but you may still need a lot of medical support, such as antibiotics, transfusions, and medicines to help the transplant keep working correctly.
BMT side effects
The main side effect of BMT is graft-versus-host disease. In this condition, the donor cells start attacking your body. Doctors treat this with medication.
If the transplant does not work
In about 5 percent of people, BMT does not work. The new cells do not engraft.  This is very disappointing, but fortunately, it is rare.
If this happens, you will go back to taking medication and having other treatments for MDS.
Going home after BMT
Going home is exciting, especially if you have spent weeks or months in the hospital. You need a strong support system, including an excellent caregiver. Your medical team will teach you about avoiding infections, treating side effects, and taking the medicines you still need.
Recovery
A blood and marrow, or stem cell, transplant is a major procedure, so you should expect recovery to take at least 6 months to a year or more. The goal is to have your blood counts near normal and your immune system working well. You will see your transplant team regularly during recovery, but less often as you get better.
Will BMT need to be repeated? What if MDS comes back?
MDS may eventually come back. Your doctor will tell you if another transplant or a re-infusion of the donor cells is possible or helpful. A clinical trial may also be an option.
What is the outcome of BMT in people with MDS?
Research shows MDS does not progress, or get worse, in 20 to 40 percent of people who have a transplant, and it can improve your quality of life if you have high risk MDS. But it is not for everyone. Talk to your doctor about whether BMT is an option.
Slide Show - Blood and Marrow Transplantation in MDS
This slide show provides an overview of
blood and marrow transplantation
(
BMT
) for
myelodysplastic syndromes
(
MDS
). Doctors also call BMT a
stem cell transplant
or
hematopoietic stem cell transplant
. This slide show explains how BMT works, who is eligible, and what to expect before, during, and after the procedure.
Click here to take our SURVEY
Your feedback is important to us! We will use your feedback to develop future areas of content about MDS which will help other patients, caregivers and families.
Please rate this content: